Follow Us



Home > MLB Baseball Bedding & Accessories > St. Louis Cardinals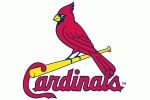 St. Louis Cardinals



The St. Louis Cardinals are an American professional baseball team based in St. Louis, Missouri. The Cardinals compete in Major League Baseball (MLB) as a member club of the National League (NL) Central division. Since the 2006 season, the Cardinals have played their home games at Busch Stadium. One of the nation's oldest and most successful professional baseball clubs, the Cardinals have won 11 World Series championships, more than any other NL team and second in MLB only to the New York Yankees. The team has won 19 National League pennants, third-most of any team. St. Louis has also won 14 division titles in the East and Central divisions.


© Copyright 2023 - All world rights reserved - DecorateToGo.com
Privacy Policy | Security Policy

All product images are the © Copyright of their respective manufacturers.


DecorateToGo.com has a huge selection of the best selling
wallpaper
,
wallpaper murals
and
wallpaper borders
to choose from.
We carry Candice Olson, Ronald Redding, Carey Lind, Antonina Vella, A-Street Prints, Kenneth James, Magnolia Home, Scott Brothers, Brewster, Waverly, York, Norwall, Patton
and many more
.