Follow Us



Home > Art, Prints & Photographs > NFL > Seattle Seahawks > Seattle Seahawks - CenturyLink Football Field Panoramic Framed Print
Home > NFL Football Bedding & Accessories > Seattle Seahawks > Seattle Seahawks - CenturyLink Football Field Panoramic Framed Print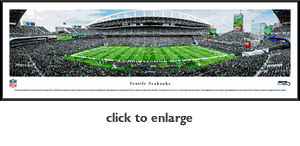 Seattle Seahawks - CenturyLink Football Field Panoramic Framed Print



Seattle Seahawks - CenturyLink Football Field Panoramic Framed Print. This panorama captured the Seattle Seahawks and the San Francisco 49ers at CenturyLink Field. As one of the NFL's most successful franchises, the Seahawks draw legions of fans from across the Pacific Northwest, whose legendary loud and relentless support gives the team a home field advantage unlike any other. In recognition of these diehard fans known as the "THE 12s", and the impact they have had on the team's success, the Seahawks retired the number 12 jersey, in their honor. An enormous flag bearing the number 12 is also raised prior to opening kickoff of every home game to celebrate the best fans in the NFL. From sport greats to local celebrities, raising the flag has become an honor within itself.

*The print is mounted and backed up with foam core.
*Your Panoramic Frame is made out of the Highest Quality Black Aluminum, as opposed to low quality wood or compressed cardboard (like most frames).
*Your Panoramic Frame will have Heavy Duty Tempered Glass (safety glass!) which Displays Nicer, and is also much Easier to Clean than plexiglass.
*Outside dimensions are 13.75 inches x 40.25 inches.
*It measures almost 1 inch out from the wall and is .375 inch wide with a rounded profile front.

DOES NOT SHIP TO CANADA!


Seattle Seahawks - CenturyLink Football Field Panoramic Unframed Print

Unframed Print of the above image.


© Copyright 2023 - All world rights reserved - DecorateToGo.com
Privacy Policy | Security Policy

All product images are the © Copyright of their respective manufacturers.


DecorateToGo.com has a huge selection of the best selling
wallpaper
,
wallpaper murals
and
wallpaper borders
to choose from.
We carry Candice Olson, Ronald Redding, Carey Lind, Antonina Vella, A-Street Prints, Kenneth James, Magnolia Home, Scott Brothers, Brewster, Waverly, York, Norwall, Patton
and many more
.